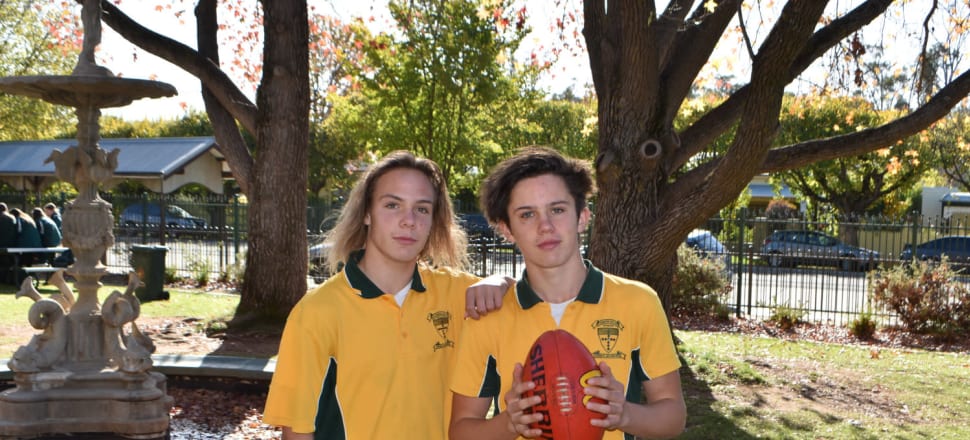 5370537724001
WHAT greater honour is there than to wear the Big V.
To pull on the famous navy blue guernsey and run out beside the best players in your state.
For two Echuca school students, it is a reality.
St Joseph's College year 9 students Corbin Anderson (15) and Noah Long (14) will join 23 fellow schoolboys from across the state as members of the Victorian 15 years and under schoolboys side at the national championships in Tasmania between July 27 and August 3.
For Anderson and Long, it has been a long road to selection.
''We qualified for an original squad, and have been through a series of trials in order to get to this point,'' Long said.
''We've played in three scratch matches since the original squad was selected, and following each match the squad around us has gotten smaller and smaller.
''We've had to play our best football against a lot of really talented players,'' Anderson said.
''It's been a long process, but about three weeks ago we found out we'd earned a spot in the side.''
The team, as well as including Max Clohesy of Notre Dame College and Charlie Barnett of Goulburn Valley Grammar School in Shepparton, also includes Cooper Harvey (son of North Melbourne champion Brent) and Will Ashcroft (son of Brisbane Lions champion Marcus).
''It's a huge honour to get to play in a side with so many really talented footballers,'' Anderson said.
''It's something very few people get to do (represent Victoria). Getting to do it at our age is something so incredibly special,'' Long said.
''We now get the opportunity to head to Tassie, play against the best players our age in the country and hopefully develop even further as players.''